We use Amazon.com for essentially all of our online shopping; it's hard to beat their rock-bottom prices and free shipping with any $25 order.  Well, much to our surprise, they have managed to top themselves with both Amazon Prime and Amazon Subscribe & Save!
Update: We also wanted to pass along an important update for those online shoppers who are looking for a Black Friday Deal: Our friends at The Penny Hoarder just created THE place for Black Friday deals, so for all the latest news check out their Black Friday Deals Blog.
We signed up for both Amazon services recently and here's our report:
Amazon Prime: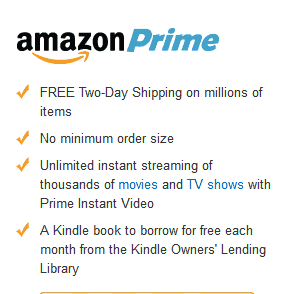 Most people who shop at Amazon have heard of Amazon Prime, as they rolled it out a few years ago.  For a $79 annual fee you get free two-day shipping on essentially every single product at Amazon, and there is no minimum order necessary for free shipping.
This was always nice, but we don't shop enough to justify the $79 annual fee, so it always seemed out of reach.  After doing a little research we found out that their Prime Instant Video library is also included for free, which is a game-changer.
We were signed up for Netflix Streaming at $7.99 a month, which equates to $95.88 per year.  This always seemed reasonable and we got good use out of it with TV shows like Parks and Recreation and Friday Night Lights, but after looking at the Prime Instant Video library we realized every TV show we planned to watch over the next few years was included!
So for $79 (a $16.88/year savings over Netflix) we would get the exact same streaming TV service AND the free two-day shipping on all Amazon.com orders!  We signed up for Prime immediately and cancelled our Netflix service.
For those who own a Kindle, you also get free Kindle titles to borrow for free each month, so that's an extra bonus.
Aside from the money savings, this has also made our lives easier as we now place smaller orders from Amazon as we don't have to worry about the $25 minimum.  So if our daughter is attending a birthday party, we no longer need to trek out to a toy store; we just buy it on Amazon and it arrives on our doorstep two days later.  Or if we run out of something in the house and don't need it that day, we just order it on Amazon and it'll be there less than 48 hours later.
Amazon Subscribe & Save:

A friend of mine mentioned Subscribe & Save and he recommended I look into it.  It was actually fairly difficult to find on the Amazon website, so I assume this isn't one of their big promotions.  That said it's a great service that can save you time and money if you can find enough products you use that are part of the program.
How it works is this:  You search the Subscribe & Save store and find products you plan on purchasing repeatedly from Amazon.  Most of them are household products and non-perishable food, but there seems to be a growing assortment each month.
You sign up to purchase a product with a certain frequency and quantity, both of which you can change at any given point, and click "Subscribe."  That item is then added to your subscription list and you move on and search for other products.
You can always add and delete items from your subscription list, so you're never locked into an item for the long-run.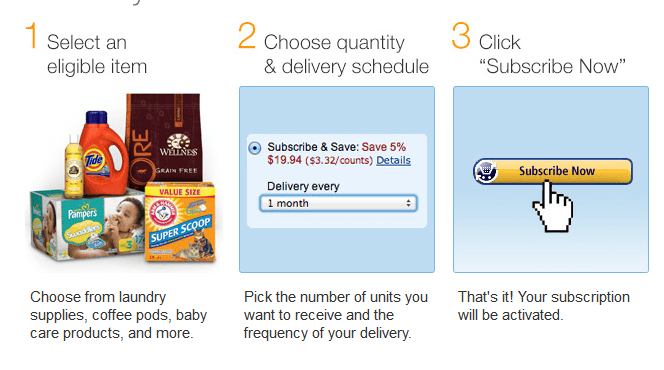 Your Subscribe & Save orders are shipped one time per month (free shipping), and of course you won't be getting every item on your list each month as you designate each on a specific frequency.  You also have the full ability to review your order prior to shipment, as you might want to remove something that's set to be ordered that month or add something that you ran out of that otherwise wouldn't have been included.
The great part is if you take part in the Subscribe & Save program and are a Prime member, you get a full 15% discount on every monthly order as long as you receive at least 5 items that month.  So you're already getting amazing Amazon-level prices and on top of that you're now getting an extra 15% off with free delivery included!
They also have something called "Amazon Mom" which costs nothing to sign up for and this entitles you to an extra 5% discount when ordering five items a month.  So we actually get 20% off all our Subscribe & Save orders!
The only problem we've run into with the program is that they don't have every brand and specific item we use in our house, so while we'd love to have literally every non-perishable item for our house and kitchen purchased through Amazon and delivered for free, that isn't nearly possible at this point.  It's a bit frustrating, but we still have found more than enough items to take delivery of at least five each month to get the 20% discount.
It's a fun thing when that package shows up and you don't have to worry about remembering those things the next time you're out at the store!
We live in an area of Richmond where we have a Costco, Wal-Mart and about 10 supermarkets within a 3 mile radius, so we can usually find great deals on exactly what we need, but Subscribe & Save would be great for people who live in slightly more remote areas and don't have such easy access to all these stores.
Even if you only use it for a handful of items each month, there's no downside to the service and essentially everyone can benefit from it, so I'd highly recommend you look into it in conjunction with Amazon Prime.
Richmond Savers has partnered with CardRatings for our coverage of credit card products. Richmond Savers and CardRatings may receive a commission from card issuers.