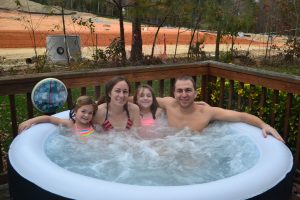 Yes, the title is not a misprint.  We bought a hot tub.  Not exactly what you expect to read on a personal finance site dedicated to frugal living, right?
But we got it brand-new for only $270 delivered to the house!  Hopefully that makes it a little more of an interesting read…
I think this story really typifies how Laura and I go about our financial lives as we try to live a middle class life that's just a bit smarter than normal, which allows us to save a significant percentage of our income and pursue true financial independence.
We feel there are a few tweaks here and there that make all the difference between the normal 'living paycheck to paycheck'/keeping up with the Joneses existence like everyone else and being on a path to true wealth and financial independence.
We're always trying to find little hacks that will really move the financial needle and we've talked about some of the most important before like:
While this hot tub purchase clearly isn't as important as those above, I think it's a good illustration of how to deal with a "want" in a smarter way.
Plain and simple:  We wanted a hot tub in our back yard.
We're a big swimming family and every time we go on vacation where there's a hot tub, the four of us just really enjoy soaking in it.
It's a great relaxation tool and also a nice place to sit and chat as a family.
But wow, are they unbelievably expensive!!
We started initially pricing them out and you're looking at $5,000+ if you buy from a pool & spa location.
Even at Costco the smaller unit we were targeting was well over $3,000 and then we likely would have had to reinforce our deck to handle the weight and upgrade our electrical system just for this purpose.
This was a crazy expense and we just couldn't justify it.  But we really still wanted a hot tub!
A Low-Cost Option Emerges: The Inflatable Hot Tub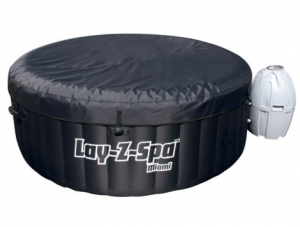 Okay, so we had literally never heard of an inflatable hot tub before, and it sounds pretty sketchy, right?
I thought so too, until I heard Laura's sister had one and they really liked it.  My brother-in-law Jared is a smart guy and since he just personally gutted and renovated his entire home, if he vouched for the construction of this thing, it was good enough for a bozo like me!
The model they bought was the Lay-Z-Spa Miami, so naturally that was the one we targeted.
We first looked for it on Amazon.com and it was around $340 which was very reasonable.
But that very day we received a one-day limited-time coupon for Ebay and it just so happened this was good for products sold by the super-seller VM Innovations.
The coupon got us $50 off their already low price of $320, so our final price was $270 including free delivery!
So instead of spending well over $4,000 on a Costco hot tub, including costly upgrades to our deck and electrical system, we ordered this inflatable hot tub at 5pm last Wednesday and it showed up at our door by 10am the following morning!
It took me about 20 minutes to inflate it and put it together, another 30+ minutes to fill it with water and then the heating process began.
By Friday afternoon we were luxuriating in our 101 degree hot tub on our back deck and we were all thrilled.
Was this option the perfect-world scenario?  No, absolutely not.  It's a little too small and might be awkward to have friends in, so it's more of a "family only" type thing.
But was it a great way to get the vast majority of what we were looking for at a 90%+ savings off of what most people would have done?
You bet!
And we really love it and now have a fun activity to look forward to as a family.
While I've been really impressed with how sturdy and well-built it is, I figure even if it only lasts two years it is still a huge win.  We can seriously buy a new one every 2 years if we have to and we're still way ahead of where we would have been if we spent over $4,000 for a "real" hot tub.
I think it always pays to be open-minded, willing to think just a little differently and willing to accept the imperfections of a situation if you can still derive the majority of the benefits and this inflatable hot tub purchase is the most recent example of us putting it into practice in our lives.
Richmond Savers has partnered with CardRatings for our coverage of credit card products. Richmond Savers and CardRatings may receive a commission from card issuers.