Since discovering the wide world of travel rewards almost 5 years ago, I've been fortunate to partake in some pretty amazing trips.  A lot of them would not have happened without the free hotel rooms and free flights either.  It's hard to justify a $10,000 European honeymoon when your wife is in medical school.  But when you can pay for 2/3 of that trip with miles and points, that makes a huge difference.

So when I say that my latest redemption is one of the best of all time, I don't mean that lightly.  Brad was actually the inspiration for part of this trip since it was through his site that I first learned about the famed Boston to Dublin route using British Airways Avios.  For those who don't know, British Airways uses a distance based awards chart which means that there are some amazing deals on shorter flights that fall just within the edge of their zones.
On carriers like American Airlines you will pay the same price per their award chart to get from North America to Europe regardless of where your origin and destination are.  So normally people coming from California and going all the way to Eastern Europe would get the best bang for their buck while East Coasters heading to Dublin for example would have to pay the same price as the Californians (despite traveling less than half the miles).
How BA's Chart Works With BOS to DUB
The distance from Boston to Dublin is 2,987 miles which just barely falls within BA's Zone 4 award.  That means it only costs 12,500 miles for a one way ticket or 25,000 for a round-trip (RT).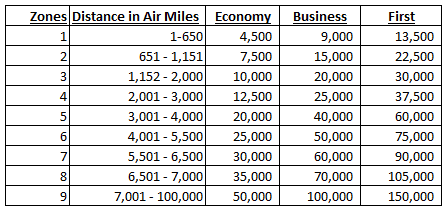 You can see that if this flight was just 14 miles further, the RT cost would jump from 25,000 to 40,000!  If we were to book this flight with cash, it would have come in at $723 so that means we're getting almost 3 cents per point which is a pretty fantastic deal.
Booking BOS to DUB
This route is pretty popular (you can also travel from Washington DC for the same number of Avios) so I started looking for availability about 6 months ahead of time.  Generally, I'd say 6-9 months out is when you need to book award flights if you want to maximize your chances of getting the seats/dates you would like.
When I checked in November of 2014, there was pretty good availability in economy for this route (travel dates of April/May 2015).  I was able to book two round-trip economy tickets from Boston to Dublin for 50,000 points and around $220 in taxes/fees.  Most people lament BA Avios because of the high fees/taxes associated with flying in/out of London and the 'fuel surcharges' they impose on British Airways and most partner flights to Europe including US Airways and American Airlines.
Flying Aer Lingus is a great way to avoid those fees because you are avoiding London and they don't impose the large fuel surcharges on Aer Lingus (and Air Berlin) flights.  And if your final destination is London, you can always pay cash for a ticket on a local carrier to avoid the fees from flying in/out of London with miles.
Unfortunately, Aer Lingus availability does not show up on British Airway's website.  Instead, you'll have to head over to United.com and use their search tool to find Aer Lingus (EI) availability.  If you see any available EI Saver Level flights on United.com's website, that should match up perfectly with what you can book when you call British Airways.
In order to actually book the Aer Lingus tickets, you need to call British Airways, as you cannot book Aer Lingus flights with BA Avios online.  As odd as this sounds, you search for availability on United.com, you call BA to use their Avios miles to book an Aer Lingus flight to/from Dublin.
BA is known for long hold times but you can always try calling their international number to see if there's a shorter wait.  Try to call BA as little as possible 🙂
Once you've booked your ticket, you can actually use CheckMyTrip.com to get your Aer Lingus booking code (it will be different than your BA confirmation) and call Aer Lingus to select your seats.  I selected two seats near the front of the plane by the window.  Aer Lingus recently upgraded their business class seats on the A330-200 that serves this route but economy seats remains the same.
Upgrade to Business Class
Finding business class availability on award seats (especially with partners) is always tough.  I originally booked economy but since it would only be 12,500 extra points each way to upgrade I was hopeful that some business seats would open up.  I like to check once every 2-3 weeks if I'm hoping for an upgrade.  There really isn't any science to this other than just hoping you get lucky.
In this case though, I got really lucky as Aer Lingus released a whole slew of business class seats at the end of March.  I was able to call in (I had to wait an hour) and upgrade our outbound seats to Aer Lingus' new business class product for only 25,000 miles (for 2 people) and $110 ($55 change fee x 2 tickets).
Now I would never pay $2,700 for a business class seat but you can see the amazing value we ended up getting on this flight.  The above itinerary is for one person and when all was said and done I paid 37,500 points and $165 in taxes/fees (x2 for me and my wife) for this round-trip flight including a night in a new business class seat that turns into a lie-flat bed so we arrive in Europe nice and rested!  I was already looking forward to 7 days in Ireland but now I get to look forward to the flight too.
About the Author:
Harry Campbell is a 28 year old retired aerospace engineer and full time blogger. He runs a blog for Uber/Lyft drivers over at
The Rideshare Guy
but has been passionate about travel since an early age. Harry loves to write about using miles and points to travel and over the past 5 years he's racked up over 2.5 million points!
Richmond Savers has partnered with CardRatings for our coverage of credit card products. Richmond Savers and CardRatings may receive a commission from card issuers.