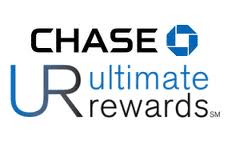 If you want to get maximum travel value out of your credit cards, a great place to start is with transferable points such as Chase Ultimate Rewards.  We consider Chase Ultimate Rewards the most valuable and flexible points in the travel rewards world, and highly recommend them as a starting point for travel rewards. In you're looking to get started, check out our review of the Chase Sapphire Preferred, which is our favorite all-around rewards card.
This article walks you through your redemption options and the potential value of UR points by showing you the options my wife Laura has with her 50,184 Ultimate Rewards points in her account.
There are 3 main redemption options for Chase Ultimate Rewards points:
Cash Redemption at 1 cent per point (50,184 UR points = $501.84)
Travel Booked through Chase UR portal at 1.25 cents per point (50,184 UR points = $627.30)
Transfer Points to one of 13 Chase UR transfer partners. Example of two options to redeem: 10 nights at the Category 1 Hyatt Place hotel in Richmond for visiting guests (over $1,200 value) or five round-trip flights from Richmond to NYC when transferred to British Airways and flying on American Airlines (over $2,000 value)
To get started, the first thing you need to do is log into your Chase credit card account at Chase.com.  You'll see a screen that looks like this:
Click on "Go to Ultimate Rewards" and you'll arrive at the main Chase UR portal.  Hover over "Use Points" and you'll see your travel redemption options (plus gift card redemption choices):
Option 1) Get Cash Back
While it's hard to complain about getting cold hard cash back from your rewards points, this is the least valuable of the 3 main options.  You earn 1 cent per point so Laura's 50,184  points = a $501.84 check.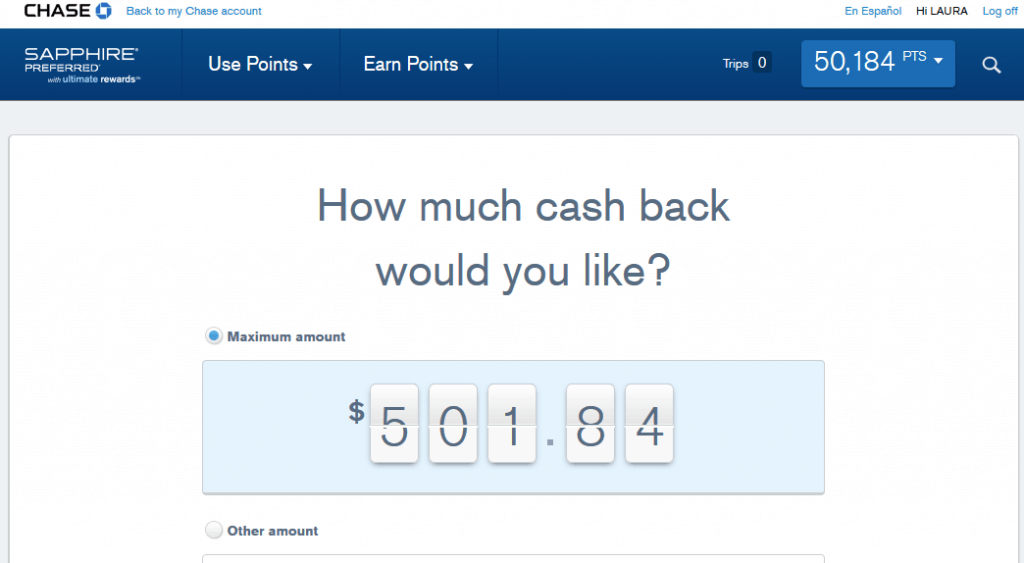 Option 2) Explore & Book Travel
If you're looking for a flexible way to redeem your Chase UR for travel, try the Ultimate Rewards portal for actually booking your flights, hotels, rental cars and 'activities.'
An important benefit is that Chase allows you to book your travel with points even if you don't have enough to cover 100% of the cost.  They just charge your credit card for the remaining amount, which is a really nice perk.
After you click the 'Explore & Book Travel' option, you'll see a screen that looks like the following: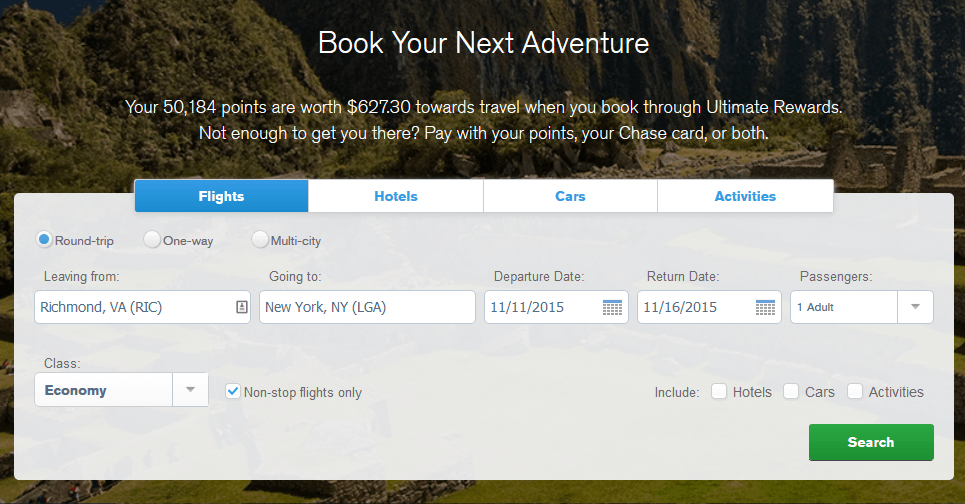 They tell Laura that she can book travel worth $627.30 and she'd just plug in the info on our trip to NYC and the flight options would show up for her to book:
In this case a round-trip flight from RIC-LGA on American Airlines would cost 29,616 Chase Ultimate Rewards points when booked through the Chase UR portal.  Press "Select" and the flight is booked.
Option 3) Transfer to Travel Partners
The most potentially valuable way to redeem your Chase UR points for travel is to transfer the points to one of Chase's 10 travel transfer partners.  Once you transfer them, these points become points/miles in the rewards program of that partner.  So if Laura sent her 50,184 UR points to Hyatt, they are now Hyatt points sitting in her rewards account there and are no longer Chase UR points (you cannot transfer them back).
To transfer, you click 'Transfer to Travel Partners' and then find the partner you want to transfer to and click "transfer points."  If you haven't previously sent points to that partner, you just have to enter some basic info: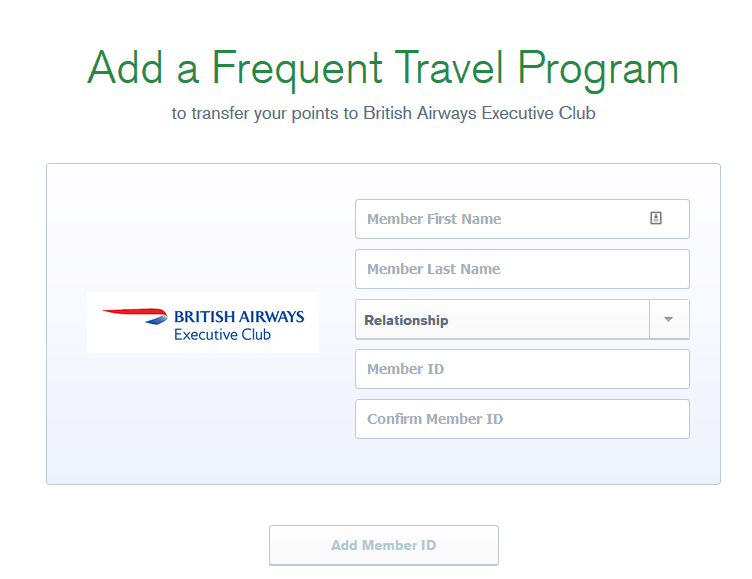 Laura wants to send her points to Hyatt, as we can book a nice Category 1 Hyatt Place near us for only 5,000 points per night.  This means we get ten free nights at a hotel that normally costs $120 per night from those 50,000 UR points (a $1,200 value!).
We already setup a link to my Hyatt account (you can transfer Chase UR to your account or your spouse/domestic partner's account) so she would just click Hyatt Gold Passport in the above picture.  Then select the number of points: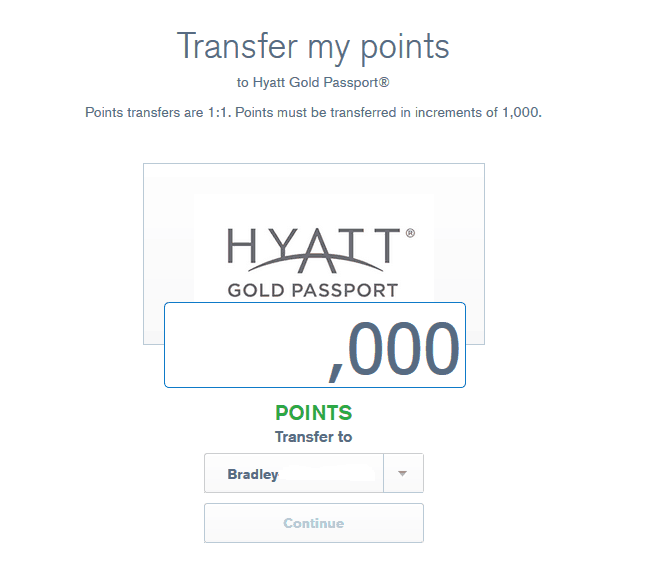 Enter the number of points and click 'Continue' and then you'll get a final confirmation screen:
Click 'Confirm & Submit' and the points will show up nearly instantly in the Hyatt rewards account (just refresh the Hyatt account and it should show up within one minute).
This entire process should take just a few minutes and you can book your hotel rooms or flights at the respective partner websites.
While we think transferring to one of the 13 partners is the best way to redeem Chase Ultimate Rewards points and we highly recommend that option, you now have all the info you need to make the redemption that works best for your travel goals.
Richmond Savers has partnered with CardRatings for our coverage of credit card products. Richmond Savers and CardRatings may receive a commission from card issuers.