The Walt Disney World Dolphin hotel is one of our favorite properties and has been an important part of our plan to visit Disney World for free. Effective today, this property is now a Category 5 SPG property which means that it costs more Starwood points per night. Here's the scoop on what's going on along with some workarounds to keep your Disney trip affordable and stretch your points as far as possible.
Walt Disney World Dolphin Category Increase
Effective today, The Disney Dolphin Resort is now a Category 5 property–just like the Walt Disney World Swan. That means that instead of costing 10,000 points per night, it will now cost between 12,000-16,000 points per night depending on whether it's peak or low season.
Why It Matters
Before this change, it was easy to open two Starwood cards and have enough points for six nights at the Dolphin (5 nights in points + the "5th night free" promotion). Now that the price has increased, these points can't stretch quite that far at this property. Yes, this is a bummer! But it's also a chance to get creative, and there are several clever workarounds. Important Note: if you already booked your hotel under the old points cost, you should be fine and Starwood will honor that price.
Adjusting Your Plan
If you haven't booked yet, or maybe you are just beginning your strategy, don't worry. Here are a few ideas to stretch your points as far as possible.
Book off-season
If you can snag the hotel during non-peak season it will cost 12,000 points per night. The good news here is that is enough points to book four nights (48,000) and get a fifth night free. Remember, I'm assuming two spouses who each got the SPG signup bonus (25,000 points plus 3,000 points for your spending, so 28,000 x2=56,000 points). The tricky thing about off-season is that because Disney is so popular, there's not always a lot to choose from. Starwood has not yet published the Dolphin season calendar since increasing its category, but you can take a look at the Swan's season below (they should be similar if not identical):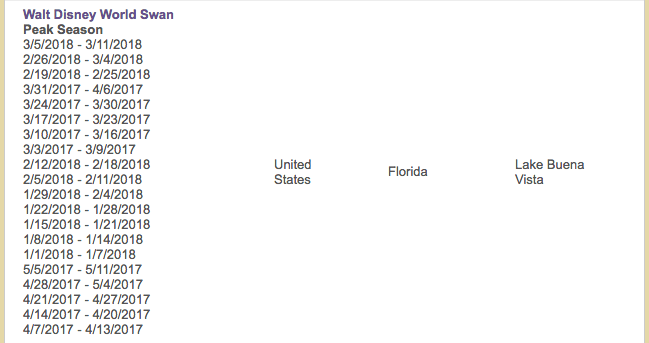 Keep an eye on Starwood's master list to see when the Dolphin schedule is published.
Book Off-site
The great thing about the Swan and Dolphin properties is that they are on the Walt Disney World property. Of course, that makes the whole experience more special and convenient. But it's far from a requirement. At the end of the day, every trip to Disney is a special one and staying at an off-site property is 100% worth it if it makes the trip affordable. And here's the thing, some of the off-site properties are pretty nice, too.
If I was going to Disney on points I would take a very hard look at a property like the Sheraton Lake Buena Vista Resort. It's just a few blocks away with free shuttle service to WDW. The best part is that you can use your Starwood points and redemptions are 4,000 points on weekdays and just 3,000 points on weekends. That's at least 14 nights worth of points! Note, "there is no 5th night free" because it is a Category 2 property.
Split Your Stay
If you really want to experience the Swan or Dolphin, it's not a bad idea to split your stay. Since Lake Buena Vista is so cheap, you could do a few nights at the on-site properties and then a few nights at Lake Buena Vista. Or, you could use a different points program (non-SPG) and stay somewhere else, say, near the airport. There's lots of room to adjust this to your schedule/plan. One thing I might consider is two nights near the airport: one on the day I arrive, and one on the day I leave. The rest of my nights would be spent on-site. But of course that plan revolves around flight times, etc. Just an idea!
Use Cash Too
SPG offers a points + cash option that might be helpful too. For this property, it's 6,000 points + $110. It may not be the end of the world to do that for a night or two!
At the end of the day, this is not "good" news but it's also not the end of the world. You have lots of options at your disposal to do Disney with points. And I bet we missed some ideas here. So please let us know of additional strategies you've used in the comments!
Richmond Savers has partnered with CardRatings for our coverage of credit card products. Richmond Savers and CardRatings may receive a commission from card issuers.