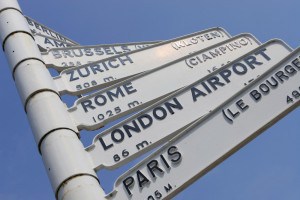 As a kid growing up in Los Angeles, Europe sounded like a magical place.  Great food, different culture and some awe inspiring historic sites.  Who doesn't love Europe and all the beauty that it has to offer?  Once I finally made it over there as a teenager, I knew it was a place that I would visit many more times.  And since that first trip, I've actually returned many times and I even studied abroad one semester in Budapest, Hungary.
It's safe to say Europe holds a special place in my heart and it's also one of my top travel destinations due to the variety of culture, weather and food (eating is one of my favorite parts about traveling).  But for US travelers, the main problem with traveling to Europe is the exorbitant cost.  Travel during the summer routinely tops $1,500 round trip in economy and you'll be lucky to even find a ticket for $1,000 during off-peak times like fall and spring.
Points To The Rescue
The nicest thing about paying for travel with points is that it helps you enjoy things that you would have never otherwise been able to experience.  There's no way I could afford a two week European honeymoon in the middle of the summer but since I paid for 2/3 of it with points, I almost felt like I saved money on the trip.  Don't worry, I still spent plenty.
Getting There With United
I like to focus on United Miles for getting to/from Europe because the points are so easy to rack up.  Remember, United is a transfer partner of Chase Ultimate Rewards so any points that you earn through that program can be transferred instantly to United.
United is also a member of the Star Alliance so if there is award availability on partner airlines you can book those flights with United Miles too.  The nice thing is that United's computer does all this work for you, so you just type your destination in their search box, click "award travel" and they find the Star Alliance award availability for you.  Brad has some great videos on searching United's website and their "free stopovers" on round-trip flights to Europe.
For those flying from North America to Europe, saver awards start at just 30,000 miles each way and taxes/fees are generally pretty reasonable (under $200 in most cases).
Here's a sample itinerary for a flight in November going from LAX to Frankfurt (FRA) that would cost only 60,000 miles and $200.  Meanwhile if you were to pay cash for this flight it would cost you almost $1,500!

American Airlines Off Peak Awards
American Airlines is probably the next best carrier when it comes to redeeming points for travel to Europe since they have very generous off peak awards.  AA is a member of the One World Alliance so you can travel on AA, US Airways or partner airlines like British Airways (although high fees may generally preclude that on BA, so be aware).
Their normal round-trip flights to Europe are 60,000 AA miles, so very similar to United; AA miles are fairly easy to come by as well, as Citibank has a number of different AA cards and people have had success getting multiple of these cards to earn a significant number of AA miles.
AA defines off-peak season as going from Oct. 15 to May 15 (7 months of the year is "off peak"!) and during that time, round-trip tickets to Europe can be had for 40,000 AA miles round-trip.
British Airways Distance Based Awards
The British Airways Avios frequent flyer system is an important one to be aware of as they offer distance based awards.  With normal United and American miles it is based on the standard award chart; it will cost the same number of points whether you're flying from Los Angeles to Dublin or  just from Boston to Dublin as both are considered 'US to Europe' in the chart.  Obviously you'd get better bang for your points flying from LA because it's a couple thousand miles further and usually costs a lot more!
With British Airways miles though, their award chart is based on the actual geographic distance of the flight, so you can find some 'sweet spots' on flights from the east coast.  As I mentioned above, British Airways does charge significant fees called "fuel surcharges" to use Avios to fly on their planes and many of their partners, so you really only want to use BA miles to fly to Europe on their partners Aer Lingus and Air Berlin.
The best example of this is that a flight from Boston to Dublin (2,997 miles) on Aer Lingus would only cost 25,000 BA Avios points, which is the single greatest sweet spot in all of travel rewards!
Aer Lingus also flies direct to: Chicago, Orlando, New York-JFK and San Francisco.
Air Berlin flies to: NY-JFK, Chicago, Los Angeles, Miami and Fort Myers.
About the Author:
Harry Campbell is a 28 year old aerospace engineer, blogger and freelance writer. He runs his own personal finance blog at
Your PF Pro
and has been passionate about travel since an early age. Harry loves to write about using miles and points to travel and over the past 5 years he's racked up over 2.5 million points!
Richmond Savers has partnered with CardRatings for our coverage of credit card products. Richmond Savers and CardRatings may receive a commission from card issuers.