Here's another post in our travel rewards tips series showcasing the best ways to get maximum value out of your credit card rewards points: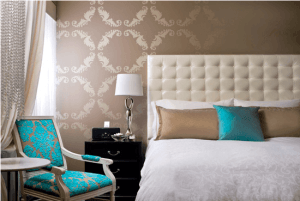 Portland, Oregon is on our short-list of must-see travel spots in the US, so I'm always paying attention to rewards options to get us out there for free.  I came across Jacob's article on I Heart Budgets about their recent trip to Portland and I was blown away by the fact that The Nines, which Frommer's gives their top '3-star' ranking, is not only included in Starwood's rewards program, but it is only a Category 4 hotel!
(Note:  Since publication of this article, Starwood changed this to a Category 5 hotel, but there are many Category 4 hotels that still fit the description below)
Category 4 hotels only cost 10,000 Starpoints per night, so this hotel which normally costs about $400 per night is one of the absolute best values in their entire rewards system!
Opening one Starwood Preferred Guest American Express card and meeting the minimum spending requirement should earn you enough (30,000 points) for three free nights at any Category 4 Starwood hotel (see all Category 4 hotels here)!
So instead of potentially paying $1,200 for three nights at this fancy hotel, just open this credit card, meet your minimum spending requirement and book the hotel.  It really is that simple because Starwood has no blackout dates, so if a standard room is available there for cash, it's available using your Starpoints.
Even if you have no interest in visiting Portland or this one hotel, this particular credit card is one of the absolute best for travel rewards, as the Starwood redemption chart is extremely favorable.  Here's what you can redeem for your 30,000 points:
Category 1 Hotels:  10 weekday nights (3,000 x 10 = 30,000) or 15 weekend nights (2,000 x 15 = 30,000)
Category 2 Hotels: 7 weekday nights (4,000 x 7 = 28,000) or 10 weekend nights (3,000 x 10= 30,000)
Category 3 Hotels: 4 nights (7,000 x 4= 28,000) or 5 consecutive nights at the same hotel with free 5th night automatically included
Category 4 Hotels: 3 nights (10,000 x 3 = 30,000)