When we talk to people about frequent flyer miles or hotel points the biggest concern is always, "what's the point of collecting all these points when you can never use them because of all the blackout dates?"
For years we didn't want to be bothered collecting points for precisely this reason – it just seemed way too difficult and time-consuming to actually get any real use out of them.
After jumping into the travel rewards concept a few years ago, we can confidently report that many of the major programs are incredibly easy to use and you do not at all have to be concerned that your miles will go unused if you plan properly.
Everything we post on this site, whether personal finance or travel rewards related, is written with simplicity in mind.  We know how busy and stressed everyone is with their regular lives, so we try to cut through the noise and make things easy.  If we can help save you thousands of dollars on travel and prove to you that this is fun and easy then we have done our jobs quite well!
Sign up for our completely free (no gimmicks) travel rewards coaching service and we'll work with you one-on-one to plan your own rewards travel.
Here are our favorite programs for ease of use and ability to earn significant point balances:
Starwood Hotels
If any Starwood hotel you want to book has availability for a standard room then you can always use your points to book.  This means there is no such thing as a blackout date!
Starwood hotels include Westin, W, aloft, Sheraton, Four Points, St. Regis, Le Meridien and Element, so there are options all across the globe.
A nice thing about Starwood points is that you can combine points across accounts, so if you and your spouse each have points you can combine them for one award booking.  This is particularly useful since you'll want to book one continuous stay and also to take advantage of the 5th Night Free promotion Starwood offers on award booking (Category 3 or higher).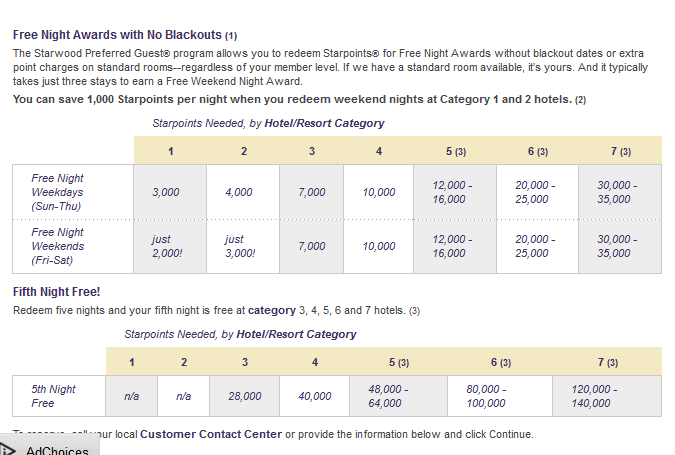 We're staying at the Westin owned Walt Disney World Swan this year, and we've recommended The Nines in Portland as well as many of the Starwood hotels in Hawaii.  You can see the entire list of Starwood hotels here as well as the point requirements.
When you search for any Starwood hotel availability, just click the "SPG Free Nights" option under "Rate Preferences" and in the list of room options one will be listed with the number of points needed.
Hyatt Hotels
Hyatt also has a no blackout date policy, so when you're searching for availability just click, "Show Hyatt Gold Passport Points" and it will automatically give you the points requirement for that particular hotel.  You can see the entire list of Hyatt hotels here (just click on the category numbers) as well as the points requirements per night.
Hotel options include: Park Hyatt, Grand Hyatt, Andaz, Hyatt, Hyatt House, Hyatt Place, Hyatt Regency
The simplest way to earn Hyatt points is to open a credit card from Chase that offers transferable Ultimate Rewards points.
Once you earn these points in your Chase account you can transfer them to your Hyatt Gold Passport account via an instant transfer and then book your Hyatt room.
Southwest Airlines
Similar to the hotel programs, there are absolutely no blackout dates on Southwest Airlines.  If a flight is available for cash it is available for purchase with your Southwest Rapid Rewards points, so it could not be easier.
The price in points is just a simple function of how much the cash flight costs:  Take the cost in dollars and multiply it by 60 to get the number of points it will cost (this will rise to 70 after the Southwest devaluation at the end of March 2014).  Put another way, it costs 60 points per $1 of Southwest flights.
Let's say your flight costs $100 each way for a $200 total round-trip cost:  Just multiply $200 by 60 to come up with 12,000 points and that's your cost.  Their website does this very easily for you on every single search; you can just click the button next to 'Fares in' that says "Points" and your cost in points will show automatically.

Southwest points can be earned through any of the various Southwest credit cards or through transfers from Chase Ultimate Rewards, so it is quite easy to amass a significant point balance.
United Airlines
In our opinion United Airlines is the absolute best of the traditional airlines for a number of reasons:
United is a transfer partner of Chase Ultimate Rewards
United has a wonderful search function right on their homepage to see what reward availability is available.  Their calendar shows you two months at a time so you can see at a glance what Saver level awards are available.
United has a significant number of alliance partners, so you can travel quite easily to popular destinations such as Europe and Asia.
United allows a free stopover on international flights, which effectively gives you a completely free flight so you can see multiple cities on one trip for zero additional miles
We tell our travel coaching members that as long as you're flexible and plan far enough in advance (award availability opens up 330 days prior to a flight) you really can see the world for free.  United is a big part of our strategy for regular people who want to easily earn a significant number of miles and actually redeem them for trips they want to take.
As long as you plan far enough in advance, you'll also find the other major airlines are fairly easy to navigate with points.  We've talked at length about how you can get incredible value out of British Airways Avios points to fly on American Airlines, and even notoriously difficult programs like Delta have some decent availability when booking 7-10 months in advance.
Richmond Savers has partnered with CardRatings for our coverage of credit card products. Richmond Savers and CardRatings may receive a commission from card issuers.