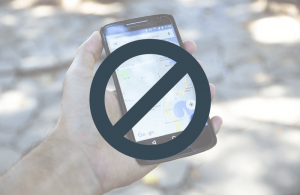 I'm writing this on a Friday afternoon, before a major upcoming holiday, while looking outside at a beautiful summer 85 degree day. This is probably the worst time to issue a frugal challenge. But I'm going to do it anyway.
I dare you to go an entire month without using cell data.
Yep, you read that right. You see, for exactly three weeks I've avoided using any cellular data. As in–I've physically turned off cell data on my device and haven't turned it back on. If you can do the the same for a month, you'll unlock mental freedom and some new savings in your budget.
Why I Stopped
When I took an inventory of my average day, I realized that I'm on a wifi network 98 percent of the time.
Is my life really so pathetic that I need to refresh my phone every few minutes? No.
I'm assuming that there's about one half hour each day that I'm in the car without wifi. That's actually an exaggeration because I don't drive very much currently. And even when I do, my phone latches onto wifi networks along the way.
I have wifi at the grocery store, hardware store, gym, restaurants, hotels, airports, and just about anywhere else I go.
Not only that, but I realized that I was often using my phone unnecessarily. I'm guilty of checking it at stoplights, then again the second I park the car (mostly to check for new email). Is my life really so pathetic that I need to refresh my phone every few minutes? No.
Results
The results of this have been pretty amazing. First, not using data will save you money. It could get you down to a $15 per month plan at Republic Wireless, or a $12 plan at Ting Mobile.
It's nice to know that I'm stuffing my pockets each month, by not using something I don't need and that only adds more stress to my life. That's been a win-win.
I've actually found that by looking at my phone less often, I've had a much better work-life balance, and when I do turn my attention to work (or email, etc.) I'm more focused and complete tasks more quickly.
One Tactic to Use
The biggest fear I had about giving up data was that I would need the GPS feature occasionally. This is incredibly easy to work around, though. I simply download the directions for offline use before I go.
With Google and other map tools, you can simply download a whole section of a map, so that the app can still guide you without a network connection.
Join Me?
I hope someone will take me up on this challenge. It's liberating, will save you money, and you won't miss the fireworks finale next week because you're staring down a digital rabbit hole.
Richmond Savers has partnered with CardRatings for our coverage of credit card products. Richmond Savers and CardRatings may receive a commission from card issuers.