Cell phone expenses have been in the news this week following comments from a prominent politician about choosing between an iPhone and healthcare. Now, I don't want to start a political debate here, but I do have some good news. With a few smart strategies, you can cut your cell phone bill so substantially that it won't keep you from your other financial goals (whether that's acquiring healthcare or, say, retiring early).
I wish more people knew that cheap cell phone options are out there. So I'll consider this post to be a contribution to the public good! After all, for most people who haven't already switched away from the big, traditional service providers, your cell phone is probably one of the lowest hanging fruits in your monthly budget.
My favorite low-cost cell phone provider is Republic Wireless, and I've calculated that by switching to them (which I did in 2015), I'll save more than $1,000 over the course of five years. I'm not even using the cheapest plan ($15 per month), but I think that the $20 per month plan is the most realistic and valuable plan you can find. Of course, there are other cheap, no-contract companies out there (we'll blog about another one soon), so be sure to do your own research and find a company that best suits your needs. This is just what works for me, and I think it's a top notch service. I'll explain more later, but first let's think about why more people aren't taking advantage of deals like this.
Why Are People Spending So Much?
If you do some research, you'll see that the average monthly cell phone bill is somewhere around $70 per month, or $840 per year. That's just ludicrous, and boils down to a few problems:
People are buying nicer phones than they need.
Honestly, the hardware (and software, quite frankly) of your phone shouldn't matter THAT much. Yes, a good camera is nice to have, and you'll want decent storage, but other than that you need something that makes calls and texts, and allows some data (minor web surfing and map capabilities). Every smartphone is going to have that–you don't need a next-level retina display, slow-mo video capabilities, HD voice (what is that, anyway?) or a bunch of extra costly features.
Remember that getting a cheap cell phone plan is counter cultural…but so is having more discretionary income.
People are paying for unnecessary data.
I doubt most people need more than 1GB of data per month. I find that if I try really hard to be frugal with my data, I'll use about 300 MB in a month, and if I don't think about it much at all I'll come out to 800 MB, or a little closer to 1 GB. But even with minor surfing and lots of Google Maps usage, I end up using very little data.
The main reason is because wifi is everywhere. I get it at the gym, at home, and even in the grocery store, so why would I pay for data through my cell provider? If I absolutely need to watch a video or do some other data-heavy task, I'll usually wait until I'm home on a normal computer, which isn't an inconvenience at all in 99 percent of cases.
Here's a pretty funny list from Republic Wireless of all the things you could do with just 1GB of data:
Download 2,323 photos
Watch 2,342 minutes of cat videos
Read 30,234 emails during your "power lunch"
Make 2,343 posts on Facebook
Listen to 4,453 minutes of Spotify, house party!
Drive 5,000 miles with Google Maps
Surf 45,324 pages on Google Chrome
Talk until you run out of words
Text until your thumbs fall off
People don't know what else is out there.
Over the last few years there has a been a lot of disruption in the cell phone industry. Lots of companies offer plans that don't require you to sign a contract, giving you flexibility as a consumer. On the flipside, many companies that used to offer free phones with a two-year contract are now requiring you to pay for the phone as part of your monthly payment, on top of the service fees. Crazy, right? Why would you want to tie up your money for two years, or even one year if you don't have to?
Unfortunately, these big players still dominate the airwaves (with all of their marketing), and still have lots of visibility via their brick and mortar stores. So, many people assume these are the only options, and they miss out on some much better services.
Enter Republic Wireless
Republic Wireless is the perfect solution for anyone who wants to have a decent smartphone but not pay a fortune for it, especially for data they don't need. Their plans are incredibly cheap for basic use, and the phone lineup offers a wide variety of options. When I started with Republic Wireless, I opted for the Motorola Moto G (considered to be the best budget smartphone) and a "Refund Plan" where I pay $25 per month for unlimited text, calling and 1GB of data. If I have unused data at the end of the month, it's reimbursed in the form of a prorated credit (for me this means that I usually pay between $18-$20 per month).
Republic doesn't offer this plan anymore, but there's a similar plan for a flat $20, which seems just as good. I love it, because talk and text are unlimited, yet you still have just enough cellular data for when you need it. At the time of writing this post, their plans range from $15 to $60, from no data included to 6GB. The $15 plan would be a steal for lots of folks, including kids who primarily need a phone to call home and older adults who may not use the web on their phones at all.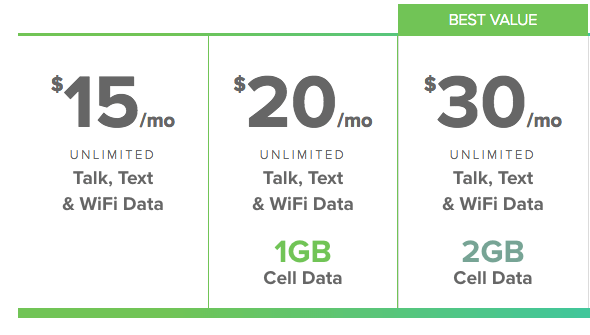 Right now, the phones range from $129 to $699, with the option to finance the phone purchase if you prefer. So if you opted for the $20 plan and the $129 phone, you could pay upfront or pay $34 per month until the phone is paid off–then go back to just $20 per month. They also allow you to bring your own phone if it's on their list of compatible devices. That presents a big savings opportunity if you're switching over to the service.
My Experience and Savings
I chose to pay my phone off in full right up front. The total was $229, and then my bill has fluctuated from $18 to the full $25 (I'll assume a $20/month average for the rest of this post).
To calculate savings, I'll compare Republic to Verizon. Let's take a closer look.
Republic Wireless vs. Verizon
First, let's look at Verizon's contract options. For $35 per month, you can get unlimited talk and text and 2GB of data. That's not bad vs the $30 Republic plan, but Verizon doesn't offer anything cheaper than the $35 monthly fee.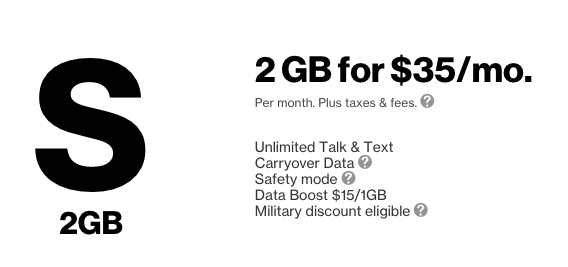 So there is a "sweet spot" with Republic. If you can make one of the plans at $30 or under work for you, you're definitely getting great value over the traditional players. I imagine that the larger plans at Republic are fine too, but if you're using THAT much data, then you might be more inclined to care about the network coverage and some of the other advantages of Verizon.
Now, let's take a look at Verizon's no-contract options. It's actually great in theory that Verizon offers no-contract plans. They are known for excellent service, and getting it on a budget would be great. But unfortunately, the plans don't live up to their potential. Verizon has "simplified" their offerings here in a way that isn't helpful. You'll only find a few options, ranging from $40 to $70 per month. No thanks.
The phone comparison is a bit complicated. Verizon's phone prices seem to fluctuate quite a bit, and both companies have sales form time to time. Right now, there are some as low as $70 for prepaid Verizon plans, and as low as $120 for the contract plans. It's hard to know how the cheaper phones from Verizon match up against those from Republic, too. For simplicity, I'll use the cheapest phones when doing my price comparison.
Savings Potential
Ok, so let's take a look at the numbers. As you can tell, I'm a fan of Republic's $20 plan, and cheap phone ($129). This combination would lead to you paying $1,329 for your cell phone over five years.
One the other hand, what about Verizon? Well, if we took the 2-year contract price (and prorated it for 5 years), along with the $120 phone, we'd get a total of $2,220. If we took the prepaid plan of $40 per month and the cheaper prepaid phone of $70, then we'd get a total of $2,470 after five years.
Wow! So if we really compare apples to apples: Republic Wireless' no-contract service + cheapest phone vs. Verizon's no-contract service + cheapest phone — we end up saving $1,141 over five years!
And yes, that would help cover a few more healthcare premiums. It would also be worth somewhere around $8,600 after 30 years of investing.
I bet some of you (hopefully all!) have already made the switch away from traditional cell phone providers who consistently rip you off. For those who haven't switched, consider giving Republic Wireless a try. You can see their plans here.
Richmond Savers has partnered with CardRatings for our coverage of credit card products. Richmond Savers and CardRatings may receive a commission from card issuers.