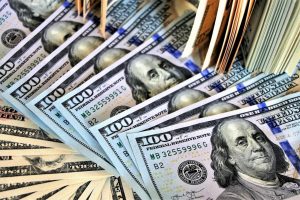 This month's "frugal challenge" is ½ challenge and ½ pro tip. I'm going to show you a simple way to make $300 this month, and it's a strategy that you can use to supplement your credit card rewards moving forward. Note: the offer discussed below only applies to 15 states* but you can use this concept with banks in your area, because they almost certainly offer similar deals.
Background: I've been using travel rewards for a while now, as have many of our readers. But I can't believe that, until recently, I was not aware of bank account bonuses and just how lucrative they can be. This post explains what a bank bonus is, some pros and cons vs. credit card rewards, and a link (NOT an affiliate link) to get you started.
What's a Bank Account Bonus?
It's simple…a bank account bonus or "checking" bonus is much like the credit card bonuses we write about so frequently. Except rather than there being a minimum spend requirement, there is often a minimum deposit requirement, and maybe a few other small requirements, such as making direct deposits or purchases with a debit card.
For over six years, my wife and I only had one checking account. I never gave much thought to needing any more, but it actually makes sense. Putting some money into an additional savings or checking account can be a good way to store your emergency fund outside of your day-to-day account. So we basically put our emergency savings in a secondary checking account where we can just forget about it (it's also a very nice surprise to remember it's there, ha!).
Pros and Cons vs. Credit Card Rewards
Also, just like with credit card rewards, this is a great way to make your money work for you just a little bit more. With CC rewards the idea is: if you have to spend money, why not make more money back on what you spend? Here, the idea is: if you have a pile of money sitting in a bank account, why not earn more money from it?
Here are the main pros and cons of checking account bonuses, in my opinion.
Pros
Little to no real "spending" required
Fees are easy to avoid (unlike credit cards with automatic annual fees)
Easy to get approved
Bonuses can be quite lucrative
Some bonuses allow Paypal and other similar methods to count toward the direct deposit requirement
Can scale the strategy up if you want more accounts/bonuses
Can be used to store an emergency fund
Accounts are easy to close if you change your mind
Cons
For many accounts you have to maintain a certain balance to avoid fees
Many bonuses require multiple direct deposits, which you often need to coordinate with your payroll
The bonuses are taxable (unlike credit card rewards, in general); and banks may not issue a tax form, so you need to be proactive in reporting
If money gets tight, you might not like having it spread out in multiple accounts
Requires organization to keep track of bonuses, balance requirements, etc. (though this is also true for CC rewards)
Bonuses are lucrative given little/no spending is required, but they aren't as big as most CC bonuses
Overall, I think if you're the type of person that likes credit card rewards and has the organizational skills to keep up with them, then you would also like bank bonuses.
A $300 Offer
Here's a great offer to get you started.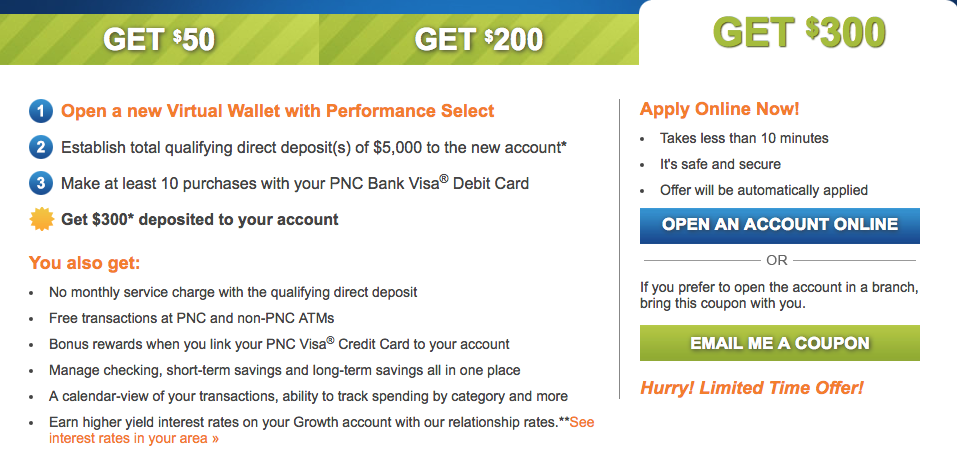 PNC currently has a $300 bonus offer when you meet the following:
Open the Virtual Wallet with Performance Select Account
Make $5,000 of qualifying direct deposits within 60 days
Make 10 or more purchases (for any amount) with your PNC debit card
If you keep more than $5,000 in the account at all times, there is no monthly service fee. It's really that straightforward, and if you meet those requirements, you will earn the $300 bonus. But this deal can be even sweeter.
Your mileage may vary, but there have been many reports that you can fund $2,000 of the initial deposit with a credit card. The only thing you'll want to do first is lower your cash advance limit on your credit card, just in case the transaction gets coded that way. But reports indicate that for many major credit cards, it codes as a purchase, which means you can use the $2,000 toward a minimum credit card spend. When I opened this account, I partially funded it with my Chase Sapphire Reserve, and that counted as a purchase.
Also, it looks like Paypal counts as direct deposit for this bonus. That was the case for me, and there are other data point confirming this. Lots of sole proprietors out there make money via Paypal, so to me it makes sense that for some people Paypal really is the equivalent of direct deposit.
Again, here is the link to the offer.
But I want to emphasize that the credit card funding and Paypal perks are not guarantees. So do your own research and move forward as you are comfortable.
Even without those perks, $300 in cold hard cash for just storing your money is a pretty sweet deal. Good luck!
*The deal appears to be available in: AL, DC, DE, FL, GA, IL, IN, KY, MD, MI, MO, NC, NJ, NY, OH, PA, SC, VA, WI, and WV.
Richmond Savers has partnered with CardRatings for our coverage of credit card products. Richmond Savers and CardRatings may receive a commission from card issuers.