Last week, I heard about Xfinity Mobile for the first time. As you may know, I'm a Republic Wireless customer (and fanboy), but the Xfinity Mobile service caught my eye. Like many people, I've had mixed experiences with Comcast, but when I looked into the numbers, this seems to be a pretty good deal for some people.
While I'm not making the switch just yet, I am intrigued. Since I put a few hours into researching it, chatting with their support team, and over-analyzing whether I might switch service, I figured that I should put together a brief overview.
Reasons to Switch to Xfinity Mobile
Here are the pros of switching over.
Unlimited talk & text + 1GB of data + a phone for $18.50!
When I started researching the service, I found that lots of people were talking about the current deal for the unlimited plan (including unlimited data). Comcast lists that at a discounted $45, but seems to suggest that pricing will eventually go up to $65. At $45, it's a great deal compared to other providers, but the thing is that most people don't need that much data.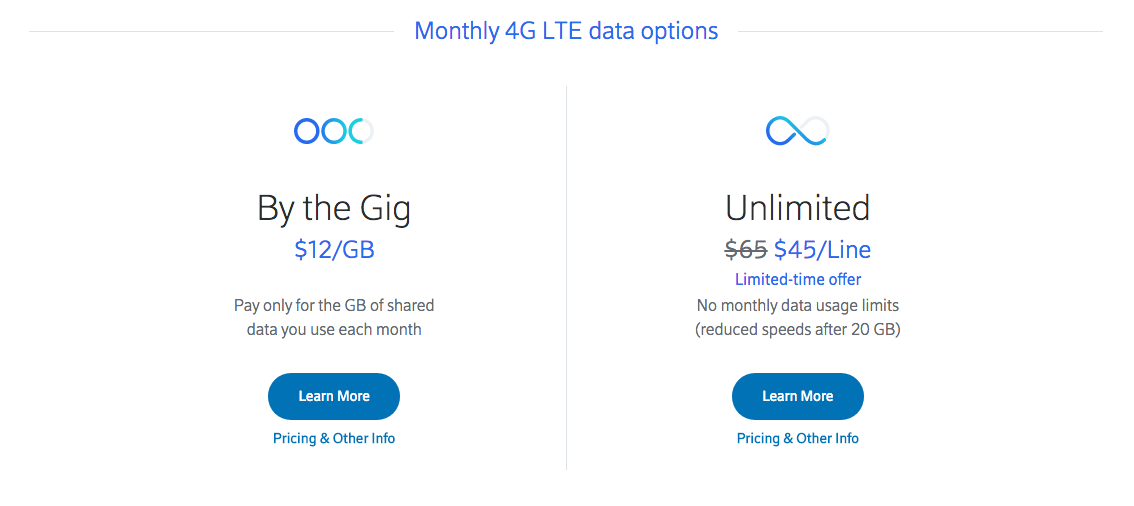 The better deal, to me, is that you can pay by the gig for $12. When you combine this with the cheapest phone available, you can pay $18.50 for unlimited talk and text, 1GB of data, and a phone! That price would be for two years (until the phone is paid off). Or, you could buy the phone outright and then just pay a base price of $12 per month before taxes and fees.
That's a steal, and less than half the cost of the unnecessary unlimited plan that everyone else is raving about.
Free 100MB of data is included
While I think the 1GB deal is awesome, I also like that 100MB of data is included for free. This means that if you use less than 100MB of data, you won't pay for any data at all! You would just pay for taxes and fees and the phone (if you didn't buy it outright).

The phone is a large percentage of the cost
Essentially, talk and text + 100MB of data is 100% free, and you're just paying for a phone and data you use over 100MB. This is significant, because with most carriers (even the cheap ones) you have to pay a large phone expense (think: $100+ upfront or a monthly fee) and then you still pay $20+ per month depending on your plan. This is where Xfinity has the edge. For the same monthly price that a budget carrier would provide service, Xfinity is providing service and a phone.
It uses the Verizon network
Yes, that made me chuckle quite a bit too. Comcast is using its cable competitor's mobile network. But let's be honest, that's hands down the best mobile network, and not something you can conveniently tap into with MVNOs or other small cell service providers. I've used the Sprint network almost exclusively for the last five years, and I have had very few problems. But, there have been some issues here and there, and I regularly visit some places off the beaten path where there is no Sprint coverage, but Verizon does have coverage.
So, I think it's a smart play by Comcast to use this network, and it might draw in some people who need to ensure near-perfect reliability and/or want to access it at a price comparable to Sprint network providers.
It leverages wifi without routing calls through wifi
Xfinity hotspots are seemingly everywhere, and Xfinity Mobile plans to leverage that by using the hotspots in place of cellular data whenever possible. However, the good news is that calls will NOT be routed through wifi. I like this concept a lot. The way I see it, I want to minimize cellular data as much as possible, but I want to ensure call reliability. This is the perfect solution.
The one catch I see here would be if phones latch onto an Xfinity hotspot with a weak signal. That could be annoying if I'm in the middle of something and suddenly can't complete it or it slows down. But again, I'd much rather this happen with web browsing than with a call.
(At least some) phones are unlocked
I won't pretend to know all the technical details here, but one concern I had was that since there isn't a BYOD program, and the phones are set up to show preference to Xfinity wifi hotspots, that somehow they wouldn't be eligible to take to other providers if I decided to quit the service. Luckily, the customer service rep assured me that the phone I'm considering (LG X Power) comes unlocked. However, I don't know if that applies to all phones, so you might want to double check if you consider a different one.
Apparently there are lots of rules regarding locking/unlocking phones, so this may be a moot point, especially if you know a lot about how this all works. It's just something to consider!
The Drawbacks
Here are some things that make me hesitant to make the switch.
The best pricing is reserved for existing Xfinity customers
If you currently subscribe to another Xfinity product (ie home Internet, cable, or phone service) then you don't pay a line fee, which again in this context means you basically get free calls and texts plus 100MB. However, if you aren't an Xfinity customer, there's a $10 line fee, which will likely affect the math so significantly that it won't make sense for you to switch to Xfinity.
Also, what if you get Xfinity mobile while you're an Xfinity Internet customer, but then you move and get a different ISP? Or, what if you just find a better price on home Internet (maybe a Verizon promotion, for example), and want to leave Comcast? These complications will undoubtedly arise. That's why having mobility is important. If you could just walk away from Xfinity mobile and put your phone on a different low-budget MVNO, then problem solved. In that scenario, you may have to pay a tad more for a new provider, but hopefully it would be less than the $10 that Xfinity Mobile will charge.
Pricing isn't guaranteed long-term
If you look at the details of the two pricing structures, you'll see that the future is a bit of a mystery. Xfinity says that if you sign up for the $45 plan, that pricing will be good for two years. But if you want to pay by the gig, that pricing is subject to change.
That makes you a bit vulnerable, especially if a switch to Xfinity Mobile would only save you a few bucks. They could presumably pull the rug out from under you with future price changes, which would be a hassle.
You can't bring your own device (yet)
This is good news and bad news I suppose. You can't bring a device to Xfinity Mobile, but there are multiple reports that they will provide this option soon. The rep I spoke to was at least willing to speculate, and told me that this could happen near the end of 2017. We can only speculate about how the pricing structure might have changed by then. But in theory, if it didn't change, you could take your phone (already paid for) and then just pay $12 per month for unlimited talk and text + 1GB of data, and that would be an insane deal.
Xfinity apps aren't excluded from data usage
It would be cool if streaming video through an Xfinity app while not on a wifi network didn't count toward your monthly data usage. But unfortunately, it will.
What's the best deal?
I think the best deal here is simply to get the cheapest phone and use the least amount of data possible between 0 and 1GB. If I make the switch, I'll be opting for "pay by the gig" (1GB for $12). I won't go over that 1GB limit, and I'll also get the LG X Power phone. I'll buy the phone outright ($156), but if we pro rate that for 24 months then my initial cost will be $18.50 per month. Then, taxes/fees for my zip code should come out to about $1.87. That's $20.37 for a phone, unlimited talk & text, and 1GB of data. After 24 months, my total monthly payment would drop to $13.87!
Just for kicks, I'd probably try to stay under 100MB of data for a month of two here and there. That would make for such a ridiculously cheap bill, that I won't be able to resist trying it.
Thoughts?
These are just my initial thoughts on the service. It will be interesting to see if Xfinity can continue to position itself as a budget cell service provider. Or, will it slowly increase prices as time goes on, particularly if it allows BYOD? I'm no fortune teller, but this could definitely be a good deal for now. If anyone has tried it yet, I'd love to hear about your experience.