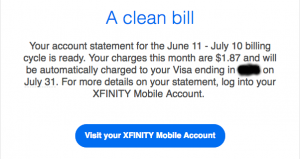 I told you before about the new service from Comcast called Xfinity Mobile. After some debate, I made the switch to their service, and I'm happy to report that my cell phone bill is now lower than it has ever been.
I paid $0 before taxes, and even after taxes my total bill was $1.87. I'm pretty stoked, obviously! Oh, and you should know that we have zero relationship with Xfinity Mobile. I'm passing this along simply because it's a great deal that I think more people should be aware of.
Caveats
There are three main caveats for how I pulled this off.
First, you can only get the best pricing on this service if you also use Comcast for Internet, home phone, or cable. Where I live, Comcast is by far my best Internet option. So it's not like I'm "biting the bullet" to pay more for Comcast Internet than a competitor only to get the cell phone deal. YMMV.
Second, I didn't use data. This was a big lifestyle change for me, but I'm very happy with it.
This is specifically where Comcast's pricing model excels. Talk and text are 100% free if you're an existing customer. From there, you can pay by the gig for $12. So it's nice to know that even if I used a whole gig of data, my price ceiling is $13.87.
Third, the pricing could change. As I explained in my original post on Xfinity Mobile, some of the current terms are "loose." That's to be expected with a new service, I suppose. But all signs seem to suggest that this will be a good deal for at least a while longer.
Other Options
If I wasn't a Comcast customer, or had higher data needs, I would probably look elsewhere for my phone service first. That's because of the loose terms I mentioned above. I'd rather go with an established low-budget provider, than risk going all in on Xfinity only to have them become much more expensive later. Plus, once you account for the additional $10 fee if you aren't a pre-existing Comcast customer, the deal isn't as good vs. the competition.
If you fall in this camp, then you might consider Republic Wireless, Ting or some other MVNO first.
Richmond Savers has partnered with CardRatings for our coverage of credit card products. Richmond Savers and CardRatings may receive a commission from card issuers.