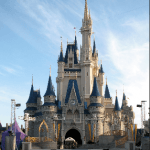 As featured in the New York Times, CBS and NBC, here's our step-by-step guide on how to take a nearly free family trip to Walt Disney World ($4,000+ savings) using credit card rewards points!
To make this trip happen, Laura and I opened a few new credit cards and used them for our regular spending in order to earn the significant signup bonuses that were offered with those cards. Since we pay them off on time and in full every month, this didn't cost us anything at all. We are both CPAs, so being financially responsible is essential to us and we thoroughly researched this before getting started.
Instead of using our regular credit card that would have earned us a tiny 1% "rewards" back, we opened these new cards and saved $4,000 on our Disney vacation.
Not bad, right? And the best part is that YOU can do this too!
Walt Disney World Tickets:
There are no specific credit cards to earn Disney park tickets, but we found a way to earn credit card bonuses to cover the vast majority of the expense of the Disney park tickets.
The Barclaycard Arrival Plus™ World Elite MasterCard® credit card allows for flexible travel redemptions; you just pay for the travel purchase with your credit card and then log into your account after the fact to redeem your miles for a travel statement credit which reduces your credit card bill.
Earn 40,000 bonus miles after you spend $3,000 on purchases in the first 90 days — that's enough to redeem for a $400 travel statement credit. Annual Fee: $89 – waived the first year.
You earn 2x miles on all purchases, so the $3,000 minimum spend x 2 = 6,000 miles; you now have a total of 46,000 miles which is enough for a $460 travel statement credit. You also get 5% miles back to use toward your next redemption, every time you redeem. In this case 2,300 miles (5% of 46,000) are worth $23 for your next redemption, bringing your total value up to $483 of travel statement credits.
If you and your significant other each open one of these cards your family will have at least $966 in total travel statement credits available. You would then want to each purchase some of your family's Disney tickets on each card, so you can redeem the bonus points for statement credits on each credit card account (up to roughly $966 off in total by splitting the expenses this way across the two cards).
Barclaycard is very specific about what counts as "travel" to be reimbursed as a statement credit when redeeming their miles. Buying Disney World park tickets directly from Disney will not work to get the statement credit, however, our top choice to purchase official Disney park tickets is UndercoverTourist.com and buying through their site will work for your Arrival miles! We have already purchased Disney World tickets through them and have received the reimbursement from our Arrival miles, so we know this works.

Undercover Tourist is highly recommended by MouseSavers.com and the famous Unofficial Guide to Walt Disney World, so we know they are reputable and are an authorized official seller of Walt Disney World Tickets.
They also do not charge a shipping cost, so you are able to split your ticket purchase over multiple credit cards and it won't cost you any additional money.
Note: You can also use the Capital One® Venture® Rewards Credit Card and Capital One® Spark® Miles for Business in the same manner for savings on WDW tickets.
Total Savings: $966 on WDW Park Tickets (much more if you include the two Capital One® cards)
Walt Disney World Hotel:
The Disney Swan and Disney Dolphin are luxury hotels right on-site at EPCOT; they are Starwood hotels so you can use points to book these hotels. By opening 2 credit cards and putting your normal spending on them, you can get up to six nights at either of these hotels which usually cost over $300 per night.
You will only be responsible for a small 'resort fee' each day but the room is entirely free otherwise. Using points you're still able enjoy many of the perks of being at a "Disney hotel" such as free transportation between parks and extra "Magic Hours" where the park is only available to guests of Disney resorts.
The Swan & Dolphin are Category 4 Starwood hotels that cost 10,000 points per night. Category 4 hotels have a '5th Night Free' perk when you use points, so when you book for five nights you only need 40,000 Starpoints.
As described below, you'll earn 56,000 of these points, which will be enough for six nights at either the Swan or Dolphin!
You and your significant other will each need to open a Starwood Preferred Guest® Credit Card from American Express.  The current promotion is a 25,000 Starpoint bonus when you spend $3,000 on each card within the first six months each account is open. Annual fee of $95 waived the first year. It's important that you hit the minimum spending requirements on each card, as these are completely distinct accounts.
You'll each earn the 25,000 point bonus plus 3,000 points for your $3,000 worth of spending, so you'll each have 28,000 points for a total of 56,000 points.
Combine Starpoints and Book Hotel: Your Starwood points will be split across the two accounts, so you need to combine them to take advantage of the 5th Night Free promotion. Combining is free and takes about two minutes. Just login to one of your Starwood Preferred Guest accounts and then click "My Account" at the top. In the area labeled "Starpoints Awards", click on Redeem/Transfer Starpoints and then "Transfer to Another Member."



Allow a few days for the transfer and then login online to the account with all the points and you can book either the Swan or the Dolphin using "SPG Free Nights!" When you book for five (or more) nights, it will automatically apply the 5th Night Free. If a Starwood hotel room is available for cash, it is available for points, so there are no blackout dates.
Total Savings for Six Free nights: $1,800
Airline Tickets to Disney World:
For most families, the easiest way to get your flights to Orlando will be to each open the Chase Sapphire Preferred® Card. The Chase Ultimate Rewards points you earn are incredibly valuable since you can either use them to book travel directly through the Chase Ultimate Rewards online portal or you can transfer them to one of their rewards partners such as United, Southwest or British Airways where they become true frequent flyer miles.
The current sign-up bonus is 50,000 Ultimate Rewards points after reaching the minimum spending requirement of $4,000 (of your regular spending) in the first 3 months the account is open. You also earn 5,000 additional points for adding an authorized user who makes at least 1 purchase during the first 3 months. $95 annual fee waived the first year.
You'll each earn the 50,000 point bonus plus at least 4,000 points for your $4,000 worth of spending (2x points on travel and dining at restaurants, so while the minimum is 4,000, it will be more than that if you have purchases in those categories), so after meeting all the requirements you'll have at minimum 59,000 Ultimate Rewards points.
If you each open this card and fulfill all the requirements as stated above you will now have at least 118,000 Ultimate Rewards points and you have two main redemption options for your flights:
The easiest and most flexible option allows you to purchase your flights through your online Chase Ultimate Rewards portal. You will get 1.25 cents per point in value this way, which equates to $1,475 in free flights from your 118,000 UR points. That will give you a lot of flexibility to book on the airline of your choice and $1,475 should cover the vast majority of the flight expense for a family heading to Orlando.
The second option is to transfer these points to one of the Chase Ultimate Rewards partner airlines to book award tickets through the normal frequent flyer process at that airline. You will want both spouses to send their Chase UR points to one frequent flyer account and consolidate them there. Southwest and United are the two main options, and these will be traditional frequent flyer mile rewards redemptions, which are potentially more valuable than using the Chase UR portal.
Southwest has no blackout dates and the award tickets are based on how much the flights cost, so this was the choice we made. We know many people who booked through the Chase UR portal for simplicity and convenience, as it couldn't be easier to book that way.
Total Savings: $1,475 (or more!) on flights to Orlando
Summary:
So there you have it, nearly a free trip for a family of four to Walt Disney World for up to six nights at the luxury Swan or Dolphin hotels, airfare and park tickets. You will have to pay a small amount for the hotel resort fee and additional WDW park tickets, but this method will easily save you thousands of dollars!
Please note that you do not want to open all these cards at once unless you think you can meet the minimum spending requirements in the appropriate bonus time span. Otherwise you want to open one at a time, fulfill the spending requirements and then open the next card.
You will want to book this trip a number of months in advance, so depending on your monthly spending levels, you probably want to start this strategy a full 12-18 months prior to your anticipated trip.