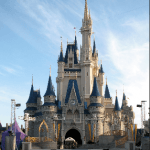 As featured in the New York Times article Tips for Travel Savings in 2014, CBS and NBC 12, here's our step-by-step guide explaining how to take a nearly free family trip to Walt Disney World using travel rewards points!
We're traveling from Richmond, VA to Orlando but if you're reading this from somewhere else, the only difference will be the airline tickets, which you can still get using our method if you fly Southwest, United, American Airlines or US Airways.
First, you must have an excellent credit score and we implore you to only move forward with this strategy if you can pay your credit card bills on time and in full every month.  Laura and I are both CPAs, so being financially responsible is essential to us, and we felt very confident with this method of opening credit cards to earn targeted bonuses that would save us thousands of dollars on our family Disney vacation.
Walt Disney World Hotel:
The Disney Swan and Disney Dolphin hotels right on-site at Epcot are actually part of the Starwood chain of hotels, so you can use your Starpoints to book these hotels for nearly free.  You will only be responsible for a small 'resort fee' each day but the room is entirely free otherwise.
Using points you're still able enjoy many of the perks of being at a "Disney hotel" such as free transportation between parks and extra "Magic Hours" where the park is only available to guests of Disney resorts.
The Swan and Dolphin are Category 4 hotels, so they require 10,000 SPG points per night. At this redemption level they have a '5th Night Free' option, so when you book for five nights you only need 40,000 Starpoints.
You first need to open a free Starwood Preferred Guest account for each spouse, as you'll both be earning Starpoints through a credit card opened in each of your names. Note these numbers as you'll enter them when opening the credit cards to link your accounts.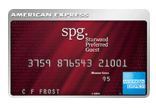 Each of you will need to apply for a Starwood Preferred Guest American Express credit card. We suggest making the other spouse an "authorized user" on each account, so each spouse will get a card for their own account and one for their spouse's account.
You will enter your respective SPG account numbers when applying for the credit cards.
The current sign-up bonus is 25,000 Starpoints. You get 10,000 Starpoints awarded after the first purchase, and an additional 15,000 Starpoints after spending $5,000 (of your regular spending) in the first six months the account is open.  $65 annual fee waived the first year.
The best way to get to 40,000 total points is:
Starwood Amex Account #1: Make initial purchase to earn 10,000 point bonus. Spend $5,000 on this card to earn final 15,000 bonus plus 5,000 points for the $5,000 spending. Total points on this account = 30,000 Starpoints
Starwood Amex Account #2: Make initial purchase to earn 10,000 point bonus. Total points on this account = 10,000 Starpoints
We certainly recommend you attempt to spend $5,000 on account #2 in order to qualify for the last 15,000 bonus points. Starpoints are quite valuable and you'll want these for a free night redemption someday, or you might even want to add an extra two days to this Disney trip.
Transfer Starpoints: One of your accounts will now have 30,000 points and one will have 10,000, so you need to combine them for the 40,000 necessary in one account for the 5th Night Free promotion. First you'll need your SPG account number for both accounts and then login to one of your Starwood Preferred Guest accounts and then click "My Account" at the top. In the area labeled "Starpoints Awards", click on Redeem/Transfer Starpoints. At the bottom there's an option to "Transfer to Another Member." Here's what it looks like:

You'll want to transfer all your points to the other account, so you have at least 40,000 in one account. This transfer takes 3-5 business days per their website. After these days have passed, login online to the account that received the transfer and you can book either the Swan or the Dolphin! When you set a booking for five nights, it will automatically apply the 5th Night Free and will ask for payment of 40,000 Starpoints. If a Starwood hotel room is available for cash, it is available for points, so there are no blackout dates.
Airline Tickets to Disney World:
Southwest Airlines flies direct from Richmond to Orlando, which was ideal for our trip.  We were able to open a Southwest credit card that gave us a big bonus of Southwest points to book these flights.  For many people out there, the best way to get your flights will be to open a Chase credit card that awards Chase Ultimate Rewards points.  These can then be transferred to your account at Southwest, United or British Airways (often the best way to fly American Airlines and US Airways in the US because of the distance-based award system).
Chase credit cards such as the Chase Sapphire Preferred, Chase Ink Bold Business and Chase Ink Plus Business all offer bonuses in the form of Chase Ultimate Rewards points.  These are incredibly valuable since you can transfer these points to their rewards partners such as United, Southwest, British Airways (top value by booking on American and US Airways flights), Hyatt Hotels, and a handful of others.
We recommend opening the Chase Sapphire Preferred credit card which offers a 40,000 UR bonus when you spend $3,000 the first 3 months the card is open.  $95 annual fee waived the first year.  Another added bonus is 5,000 additional UR points if you add an authorized user (like your spouse) and they make at least one single purchase on the card.
So you'd end up with 48,000 UR points after meeting the minimum spending requirements of $3,000 in 3 months (40,000 regular bonus plus 5,000 bonus for authorized user plus 3,000 for $3,000 spending).
You will likely need more than 48,000 points to take your family of four to Disney, so we would suggest the other spouse open an account as well to earn an additional 48,000 points.
After you've earned these points, you'll log into your Chase credit card website and go to the Ultimate Rewards section.  You will see a menu option that says, "Transfer Points to Travel Partners."  At that screen you'll just pick your transfer partner and enter your frequent flyer mile account number at either Southwest, United or British Airways (for American or US Airways flights) and transfer the necessary points.  You then book the flights through your account at the airline frequent flyer program like you normally would.
A great benefit of the Chase UR transfers is that you can send the points to your spouse's frequent flyer account to pool all the points together for one reward booking (so you can all sit together on the flight).
Southwest has no blackout dates and the award tickets are based on how much the flights cost, so this is a simple program to use.  If you intend to use United, it will cost 25,000 miles for each round-trip ticket for a total of 100,000 for a family of four.
Depending on how far you live from Orlando, you can spend as little as 9,000 miles for each round-trip ticket on American or US Airways when booked through British Airways.  Most AA redemption options through BA will be 15,000-20,000 points per round-trip ticket and some will be up to 25,000 if you're coming from the west coast.
Using any of these programs you should be able to get a family of four to Orlando from the continental US for 100,000 Ultimate Rewards points.
American Express also has their transferable point system called Membership Rewards, and you can get their points from a card such as the American Express Platinum Card which offers a bonus of 40,000 American Express Membership Rewards (when you spend $3,000 in the first 3 months the account is open; $450 annual fee applies) which you can transfer to British Airways Avios points.
If you need help determining which flights options are best for you, sign up for our completely free travel rewards coaching program below and we'll work with you one-on-one!
Walt Disney World Tickets: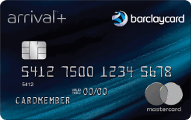 There are no specific rewards cards to earn Disney park tickets, but we found a way to earn credit card bonuses to cover the vast majority of the expense of the Disney park tickets.
The Barclaycard Arrival Plus™ World Elite MasterCard® is one of the top travel cards and in fact it was named to the "Best for Travel Rewards" list by Money Magazine in their October 2013 issue. Click here to apply for the Barclaycard Arrival Plus™ World Elite MasterCard®
The current offer is 40,000 bonus points after spending $3,000 on the card in the first 90 days of account opening.  $89 annual fee is waived the first year.  These points are good for a $400 travel statement credit for travel booked using the Barclaycard Arrival Plus™ World Elite MasterCard.
You also earn 2x points for all spending, so an additional 6,000 points for your $3,000 minimum, brings you to 46,000 points which is worth $460 of statement credits.  You also get a 10% dividend on miles redeemed for travel expenses, so this is another $46 bring to the total value of this bonus to over $500!
If you and your partner each opens one of these cards your family will have at least $1,000 in total statement credits available for travel.  You would then want to each purchase some of your family's Disney tickets on each card, so you can redeem the bonus points for statement credits on each credit card account (up to roughly $1,000 off in total in this scenario).
It is important to note that you only get a full-value statement credit when redeeming these points for travel-related expenses (you get 1/2 value if you decided to redeem for non-travel expenses so the bonus would only be worth $200 in this case).  We advise that you put at least one ticket on each credit card account so you can redeem the miles on that account to effectively "erase" this ticket expense.
Barclays is very specific about what counts as "travel" to be reimbursed as a statement credit when redeeming their miles.  Their fine print says it is good to "pay for travel" in the following categories: "airlines, travel agencies & tour operators, hotels, motels & resorts, cruise lines, passenger railways and car rental agencies."
Barclays cannot confirm for us if you can buy Disney tickets directly from Disney and get the statement credit.  However, our top choice to purchase official Disney park tickets is UndercoverTourist.com and we have already purchased Disney World tickets through them and have received the reimbursement from the Barclaycard Arrival miles, so we know this works.
Undercover Tourist is highly recommended by MouseSavers.com and the famous Unofficial Guide to Walt Disney World, so we know they are reputable and are an authorized official seller of Walt Disney World Tickets.
They also do not charge a shipping cost, so you are able to split your ticket purchase over multiple credit cards and it won't cost you any additional money.
Buy tickets here at UndercoverTourist.com
Summary:
So there you have it, nearly a free trip for a family of four to Walt Disney World for five nights at the luxury Swan or Dolphin hotels, airfare and park tickets.  You will have to pay a small amount for the hotel resort fee and depending on the length of your visit, you might have to spend a few hundred dollars more on park tickets, but this method will easily save you thousands of dollars!
Please note that you do not want to open all these cards at once unless you think you can meet the minimum spending requirements in the appropriate bonus time span.  Otherwise you want to open one at a time, fulfill the spending requirements and then open the next card.
You will want to book this trip a few months in advance, so depending on your monthly spending levels, you probably want to start this strategy a full 12-18 months prior to your anticipated trip
Sign up for our completely FREE (no gimmicks!) one-on-one travel rewards coaching program to help you get started with your own Disney trip by filling out the form below and we'll personally work with you to plan and book this (and/or any other) trip: